In the The Town of New Tecumseth, pet licence fees and donations are important for funding essential animal services. When you license your pet, know that you are doing your part to help your local shelter workers care for lost, injured and abused animals.
We are proud to call the Alliston & District Humane Society an official Safe & Happy Partner. We will always donate 20% of every designer tag sale to the Alliston & District Humane Society in an effort to provide additional funding for the community's vulnerable animals and the staff that serves them. They are doing some pretty amazing things for local animals in need, read on to learn more about this great organization!
1,000+
Animals sheltered
per year
700
Adoptions
per year
170
Volunteers
We spoke with Janet Dickson, Small Animal Adoption Coordinator, about what's been going on at ADHS.
What is something you are really proud of as an organization? ADHS is proudly volunteer-run and no-kill. We have a clear policy around this issue and do not euthanize an animal unless a veterinarian recommends this as the best option for animals in pain. A euthanasia rate under 10% is generally considered to be no-kill. The euthanasia rate at ADHS is generally around 2%.
Our dog program goes the extra mile for dogs with behavioural issues. We use a combination of foster homes, specialized trainers, train and board, and rehabilitation rescues to ensure that our dogs get a second chance at life. ADHS stands behind our animals 100%. Our adoption contract states that ADHS animals that have to be surrendered MUST come back to us.
What is something that makes your shelter unique? ADHS has a small animal program and a mini rabbit rescue within that program. We are asked to take rabbits from across Ontario, from larger shelters that have no way to adopt out large numbers of these creatures. We adopted 174 rabbits last year. In addition, ADHS spays and neuters every rabbit. We are one of the few places in Ontario to do so.
The coordinators of this area put thousands of hours in every year to educate adopters and the public about how to care for rabbits. They have regular and focused messages on our social media about the care and shelter of these pets. Our volunteers also spend hours at a time finding a proper partner for an owned rabbit to bond with, when the adopters require this service.
What is a program that you run that is really important for people to know about? Our cat program is unique in that it takes in all types of cats. We deal with seniors, cats with FIV (Feline Immunodeficiency Virus), bonded pairs, and cats that are difficult to rehome. We have a constant influx of calls from owners in tough situations who are turned away from other rescues who don't have the funds, the expertise, or the desire to help hard-to-place cats.
Can you share a story of a specific pet you helped recently? This is Toby. He's one of four bunnies rescued from a meat farm that was shut down for cruelty and neglect. He joined four other bunnies at our shelter who were being sold online for meat.
When Toby came to us, he was in bad shape, with abscesses on his body requiring surgery, due to being picked on by other bunnies (this is why we spay and neuter all our bunnies up for adoption.) He was on pain meds and antibiotics for over a month. In addition to Toby's veterinary costs, we also have to feed, care for, and spay, and neuter all of Toby's friends as well.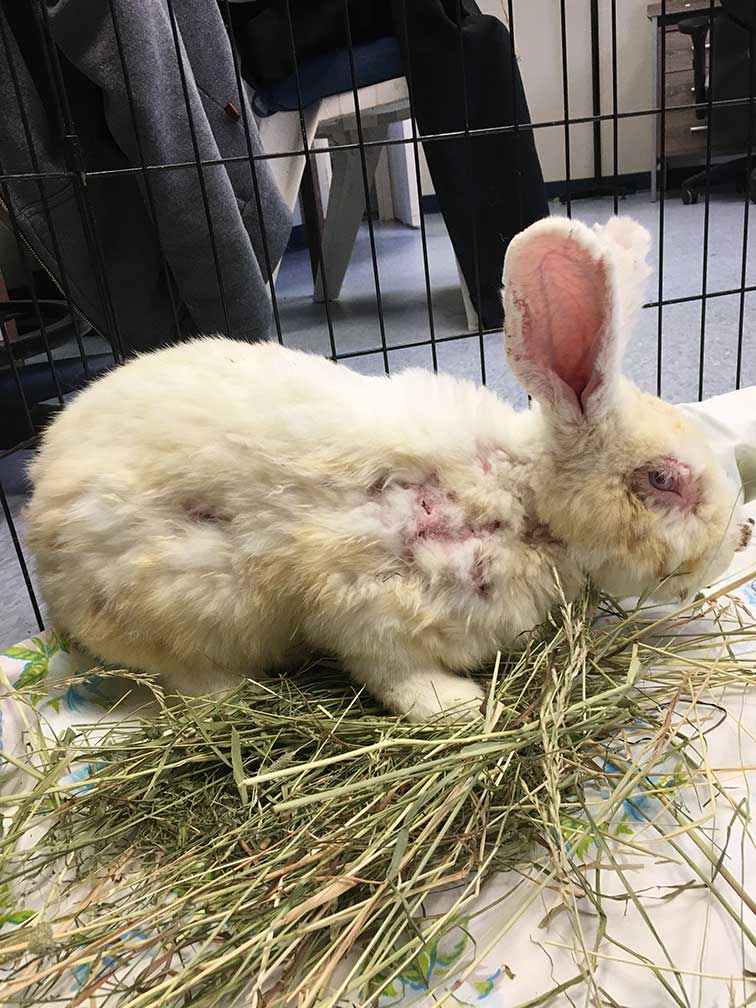 How many donors do you have? We have many regular donors as well as others who donate when we reach out for help. We receive no government funding and rely on donations to run our shelter. We also have an amazing number of children who are regular donors of birthday animal food drives, allowances or run things like a summer lemonade stand and donate their earnings
What is something you are raising funds for today specifically? We have begun the planning for a renovation and small expansion of our shelter. Our building fund will be launched in 2022.
Do you have any specific advice for pet owners that you'd like to share? Make your pet part of the family and always keep an ID tag on your pet! ADHS supports this list of 11 tips for being a responsible pet owner: https://www.petsafe.net/learn/11-tips-for-being-a-responsible-pet-owner
Is there anything else you want to let us know so we can get the word out? Adopt don't shop! Choose a pet from a humane society, municipal pound, or reputable rescue that spays or neuters, vaccinates, microchips, and guarantees the health of your new pet. Pet shop animals tend to come from puppy and kitten mills where the owners provide no provenance, no medical care, and no medical records.
For more information about Alliston & District Humane Society, visit
https://allistonhumane.com/